Job Seekers: Looking for Good Work?
PA CareerLink® – Chester County is with you every step of the way.

Introducing the PA CareerLink® Labor Exchange For Job Seekers

NOTE: JobGateway® changed to PA CareerLink® on August 10, 2018. Please note that after the change, www.jobgateway.pa.gov will automatically redirect to our new site address: www.pacareerlink.pa.gov.  If you have a JobGateway® account, you will continue to log in with the same Keystone ID and password.
Finding a good job is a tough task, but thanks to PA CareerLink®  your quest for a new job just became a lot easier.
Serving as the Commonwealth's Labor Exchange System, PA CareerLink® is a system where you can access employment, education and training resources.
PA CareerLink® is part of the Pennsylvania Department of Labor & Industry's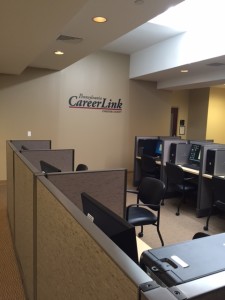 initiative to transform the landscape of how job-seekers find family sustaining jobs and how employers find the skilled candidates that they need. Through this initiative, a user-friendly,
premiere job-matching system has been created to help bridge the gap that currently exists between job-seekers and employers.
In PA CareerLink®, job-seekers have access to more than 200,000 job openings. You can create and upload a resume and make yourself available to thousands of employers. PA CareerLink® will also recommend jobs for you based on your preferences. One exciting feature is an automatic
capture of all of your job-search activities within PA CareerLink®. You have the ability to record any outside job-search activities, too. All in one place. All for free.Improvements to the job-seeking experience will continue to be incorporated.  With PA CareerLink®, you will have the ability to:                        
Develop multiple on-line resumes.
View job openings — our site features an average of 16,000 open positions each month.
Apply for jobs online — you can even use our site to research a company's business profile before you apply.
Access information, including government resources, Labor Market Information and business reference materials.
Customize or create a "Personal Folder", which manages your job search by storing multiple resumes and tracks positions for which you have applied.
Staff Assisted Job Seeker Services
PA CareerLink® professionals provide one-on-one, personalized assistance for your job search. From helping you complete your resume to helping you find the right financial aid and training to further your career — we're here to help.
PA CareerLink® can help you:

Determine your skill sets.
Plan the career path that's right for you.
Polish your interviewing skills.
Obtain information on job fairs in your area.
Connect with training programs to gain new job skills.
Identify companies that offer On-the-Job Training for new hires.
Build a resume.
Find and get the right job for you!
One of the unique things about PA CareerLink® is that you can talk to an expert personally at our professionally staffed center. Our office serves all of Chester County so feel free to stop in or call for more information.
How to Register in PA CareerLink® – JOB SEEKER Palm Card